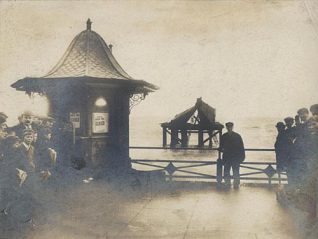 Photo from Brighton History Centre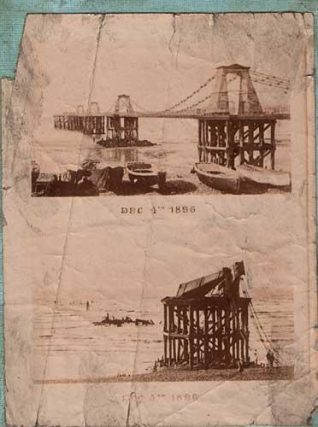 In 1896, Brighton's very first pier – the Chain Pier – was destroyed by a great winter storm. The last man off the pier, according to a book by Ernest Ryman*, was Edward Fogden, a shipwright and watchman, who had worked on the Chain Pier for forty years. He was my great-great-grandfather. His last job each night was to walk to the end and light the lamp. He struggled off the pier a few hours before it was destroyed and watched it disappear.
A forlorn figure
Next morning, newspaper photographers recorded the scene. One of these pictures included Edward, who was described as 'a sturdy but forlorn figure'. We can't be sure that the photo on this page is the one in question, but the description of the solitary figure seems to fit.
Obituary for Fodgen in 1918
There was an obituary for Edward Fogden in the Brighton Herald on Saturday 26 Jan 1918 supporting this story. The Brighton Herald mentions that he was, at that time, the oldest person to be awarded the Brighton Magistrates ten shillings, which he received the previous Christmas. Can anyone tell me what this was?