The Bombing of The Kemp Town Odeon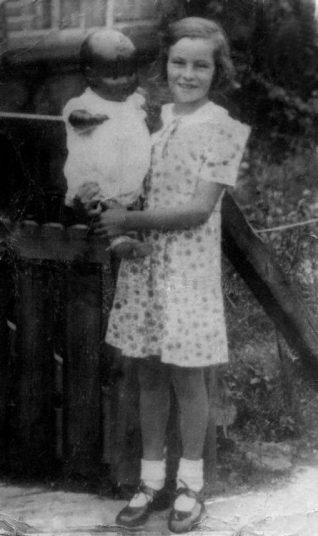 Photo from the private collection of Trevor Duplock
In 1940 Brighton, like most of the South Coast of England, was ready for a probable invasion. The threat from the German air force a very real danger and the strong possibility of sea borne landings by the German army meant the town was heavily defended. The beaches were shut and covered in mines and barbed wire and anti aircraft guns were sited throughout the town's parks. Children were of course evacuated as a precaution against bombing raids and invasion, but not all of them.
At that time my grandparents lived in Whitehawk. My father, their eldest child, had joined the Royal Navy, and as a gunner was stationed on a ship that was escorting convoys on the perilous North Atlantic route. That left his eleven-year-old sister Monica and nine year old brother Neil at home with my grandparents. They couldn't face the idea of being parted from the children and had resisted the idea of evacuation believing they could keep them safe.
At that stage of the War very few bombs had fallen on Brighton, but that was about to change in a very dramatic way. On Saturday the 14th of September 1940 my eleven-year-old Aunt and nine year old Uncle had gone to the Odeon Kemp Town cinema to watch a matinee performance. As they sat in the cinema full of children, the most notorious bombing raid on Brighton during the War was about to take place.
At three-thirty that afternoon in the sky above Brighton, a Spitfire fighter plane was pursuing a German Dornier bomber that had become parted from the rest of its squadron. In a vain last ditch attempt to escape its pursuer, the German pilot decided to release all the onboard bombs, hoping the resulting decrease in weight would increase its maneuverability, and chance of survival. In this case the bomber did not escape and was later shot down. Twenty five-hundred-pound bombs rained down on Kemp Town, killing fifty-two people. The bombs straddled an area that included Edward Street and Upper Rock Gardens, two of the bombs hitting the Odeon cinema.
My aunt was one of the four children killed and dozens injured in the cinema that afternoon.She had been hit in the neck by flying shrapnel from the exploding bombs and was bleeding very badly from her wounds. In the midst of all this carnage her younger brother, in a desperate attempt to save his sister's life, carried her to the nearby Sussex County Hospital, where she later died of her injuries.
In the whole of the War one hundred and ninety eight people died in Brighton from German bombing raids. The fifty two that died that day represent over a quarter of that total. A memorial service was later held at St Peter's Church for everyone that died that day.