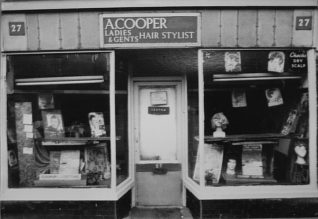 From a private collection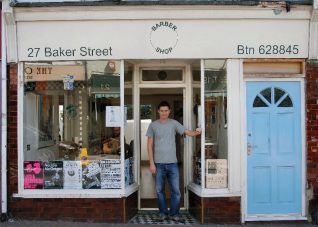 Wind your way down Baker Street in Brighton, and, believe me, nostalgic, syrupy saxophone melodies will be furthest from your mind. This noisy little thoroughfare, off the London Road, is home to a shoddy selection of shops and a cheesy tattoo parlour, and would be as insignificant as it is unglamorous, were it not for being home to one of the hairdressing world's best-kept secrets.
Not in the universe as we know it
Having been frozen in time for the last forty years, 'Coopers for Haircuts' no longer exists in the universe as we know it, but instead skulks in those dark shadowy corners normally reserved for nightmares, fevered visions and sketches from the League of Gentlemen.
Disturbing dolls' heads
I first stumbled across Cooper's many years ago by chance and remember gazing in the window in awe at the strange and disturbing dolls' heads sporting lopsided grey toupees, and the peeling and faded black and white photos of haircuts that would frighten your granny. A hand-written sign read 'haircuts 100p', and just inside I could make out the silhouette of a man who passed more than a casual resemblance to Mr. Burns from the Simpsons. I was, naturally, intrigued.
Mr Cooper is interview shy
Nine years later, the price may have gone up by 20p, but otherwise nothing seems to have changed. Unable to seduce Mr. Cooper into an interview, I met instead with aficionado to the cause and compere of the Comedy Dairy, Dave Mountfield, and asked him how he first became initiated into Mr. Cooper's lair.
A haircut there or a pudding bowl at home
It was about eleven years ago, it was a haircut there or a pudding bowl at home. The price was right, though I admit I was pulled in like people get pulled in by Devil worship: half out of fear and half out of curiosity. I guess I was seduced by his style hints from 1971 Vietnam war magazines, random press cuttings, cat wee-wee smell, and those strange, sinister dummy's heads.'
Colourful language
On the topic of Mr. Cooper himself, Dave expounded: 'He's just like any other 203 year old desert rat war veteran barber who charges a pound, offers an endless stream of invective about anything, and who cuts bits of your hair actually out of your head. And he swears like you wouldn't believe.'
Did he cut Montgomery's hair?
Two stories I had heard about Mr. Cooper were that he had once chased someone out of his salon for asking for a 'Mick Jagger', and that he had also cut Field Marshall Montgomery's hair in World War Two. I quizzed Dave about this. 'Well the bit about Montgomery is definitely true, he even has cuttings from the Evening Argus to prove it. It's ironic though, as many of his political views veer towards the away team on that one, if my memory serves me right. If you study photos of Rommel, the 'trim' looks eerily familiar. And yes, he does seem to take personal offence at hair that touches the collar, which he regards as 'long'. I also seem to remember him dribbling on a client's head once, but that could be just a malicious memory.'
Mr Cooper is camera shy
Having relayed a story of mine about being chased off by Mr. Cooper when filming a super8 Sci-Fi spoof outside his shop, I was not surprised when Dave revealed similar experiences. 'I once tried to make a film called 'Fishboy' with my friend Colin Fernandez. The theme of this now sadly deleted film was a young man evolving back into a fish to avoid an imminent nuclear war. In one climactic scene, Colin had to go and get his hair cut as a precursor to his dramatic reversion to fish form. High level talks were entered into with Mr Cooper and, after some tough bargaining, it was agreed that we could film in the shop, on the proviso that Colin actually had a haircut, and paid for it. A stiff price, but this was a labour of love for Colin and very much part of his cinematic vision. So, with some trepidation, Colin entered into his side of the deal. We got some lovely exterior shots through the window of Colin being subjected to Mr. Cooper's craft. However, we hit trouble as soon as we entered the door with the camera. Maybe he'd forgotten the deal we'd struck some three minutes earlier but when Mr. Cooper saw the camera enter the shop, he reacted a bit like a drug dealer being confronted at home by Roger Cook. He swore, he put his hand over the camera, and in no uncertain terms told us to desist and leave his place of business. But he insisted Colin stay for his gentleman's styling session. What really hurt is that he charged Colin an extra twenty pee as his hair was touching his collar which classed him as a "F….. hippy".'
Waiting for Hollywood to call
But on reflection he conceded: 'I think perhaps we just weren't good enough to do him and his establishment justice, and so he threw us out like the frauds we were. He's waiting for Hollywood to call, and he's probably got Scorsese or Stone at the top of a very demanding wish list of directors. You can't fault a man for having high standards.'
And finally, I wondered, if his hatred of anything below the collar was to be believed, whether the fairer sex played any part in his esteemed establishment. Well it's usually the more mature gentleman that go for the chop, but he does cut ladies hair according to his sign. Now that would be interesting…
Any takers ladies?