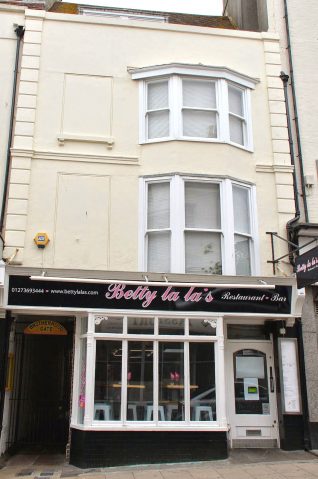 ©Tony Mould: all images copyright protected
Our introduction to 'Health and Beauty'!
From 1946-1954 I lived at 22a St James Street. Our entrance was up an alleyway to the side of Clark's bread shop and tearooms. Our 'front room' was the first floor over the shop, and when as kids we played in the room we of course made a noise which resulted in thumps from the shop to quieten us. Sainsbury's and Mead's were close by, and there was a large chemist shop over the road. Courtesy of the two children of the owner, we were introduced to the magazine 'Health and Beauty'. That was an eye opener!
Do you remember any of these shops? If you can share your memories with us, please leave a comment below.
Close to the beach
We were so close to the beach as the street is only one street back from the waterfront. I remember seeing Max Miller at the bottom of the road looking at the naughty postcards; often the old comedian Arthur English was with him. What about Gizzies Ice Creams just up from Lyons on the opposite side? Do you remember the day trippers at Edlins? Even in those days it was dangerous to ride a bicycle with those double decker buses and the road so narrow. Our house was very old but I guess it will go when the 100 year lease expires.