Letter from John George Bishop, 1907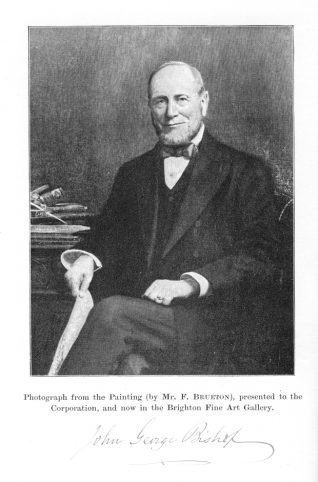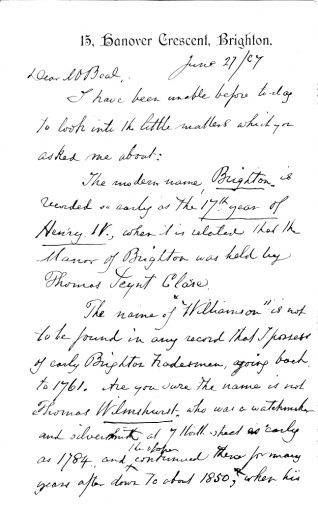 John George Bishop (1825-1919) was born and bred in Brighton and, from his humble beginnings as an apprentice on the 'Brighton Herald' newspaper in 1839, he eventually became a partner in 1864 and in 1880 he became the sole proprietor of the newspaper. His long association with the newspaper, stretching to 62 years, earned him the respect of many of the leading figures in the town and in 1899 he was commemorated with a life sized portrait, which now hangs in the Brighton Gallery of Fine Art.
The portrait was paid for by public subcription and in return Bishop published a book entitled 'A Souvenir – Miscellaneous Subjects Historical and Literary'. This book was printed in very limited numbers and the copies were presented only to individual subscribers of the portrait fund.  Amongst the subscribers was Beal & Son, a well known local bookseller and stationer.
In 1907 John Beal Jnr. received a letter from Bishop regarding an enquiry on the origin of the name Brighton, as well as other personal matters. This letter forms part of a private collection held by A.L. Grant who has shared it with the Letter in the Attic project.
In the 17th year of Henry IV
"Dear Mr Beal,
"I have been unable before today to look into the little matters which you asked me about.  The modern name, Brighton, is recorded as early as the 17th year of Henry IV, when it is related that the Manor of Brighton was held by Thomas Seynt Clare…."
Want to know more?
View this entry on the Letter in the Attic online catalogue.
Explore the full catalogue
Visit the home page of the Letter in the Attic project