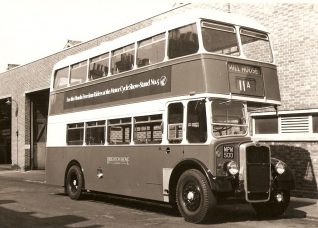 From the private collection of Martin Nimmo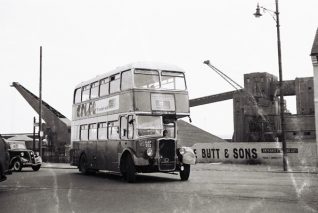 From the private collection of Martin Nimmo
The Brighton Hove and District Omnibus Company was late among the nationalised bus operators to introduce the more modern Bristol Lodekka types. These were only ordered finally for trolleybus replacement in 1959. Until then, for something like twenty years, the BH&D had ordered Bristol K type doubledeckers, with around 56 seats and open rear platforms (and no heaters!). These were the buses we all travelled on – unless we were lucky enough to be on a Corporation bus or trolleybus route or spent the extra on the protected fares that Southdown were forced to charge.
Variations of the K type
Although mechanically fairly similar to one another, the K type had a number of variations, some of which were obvious to passengers. These included the open-topped vehicles, converted in the BH&D workshops, the convertible open-topped vehicles, some with fairly translucent roof panels, and in the 1950's the first wider (8′ instead of 7'6″) red and cream buses.
All ended their days in the scrap
The final batch was delivered in 1957, registered MPM 493-500 and numbered 493-500; these were, unusually, only 7'6″ wide, intended for the St James' Street routes. In those days St James' Street was worked in both directions by buses and trolleybuses. They finished their days in the early 1970's under Southdown ownership, many of them on route 55 to the farthest reaches of Brighton to the East. Unfortunately all ended their days in the scrapyard, as open-back buses were by that time out of fashion. None of the K types lasted long into Southdown times, and none were repainted in green and cream.
The sole survivor
The only survivor is a KSW bus (8′ wide) HAP 985, which is today owned by the Brighton and Hove Bus and Coach Co., which occasionally ventures out in special service or attends bus rallies. I last saw it a couple of years ago running on the long route to Tunbridge Wells one afternoon!