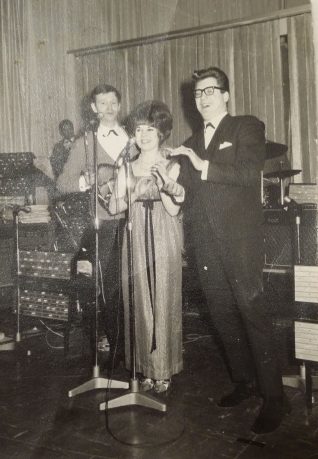 From the private collection of Ray Sinclair
With Syd Dean 1960/66
I was a guitarist/vocalist with the Syd Dean Orchestra for the period approximately 1960-1966. I have just discovered this great website, and look forward to contributing and reading more of the wonderful stories and experiences from everyone who has a connection with the Regent Ballroom, Top Rank Suite and of course the legendary Syd Dean Orchestra.
Photo taken in Top Rank
The photo was taken at the Top Rank Suite, uncertain about the date, probably a year or two after it opened in 1965. I am the one on the left with the guitar. Sad fact is that it was stolen after a private function at the Top Rank Suite not long after this photo was taken. The lady is a wonderful vocalist called Barbara Hermans.
Happy musical trio
Member number three of this happy trio is a great vocalist from Bristol called Gordon Summers. Gordon was also married to a pretty young lady named Marie I think, who was the disc jockey at the time. The person just visible on the top left of the picture is a Don Pashley, a tenor saxophonist in Syd's Orchestra for many years.
Where did you go dancing in the 1960s?

Share your memories by posting a comment below.