A birthday at the Sea Life Centre, 2001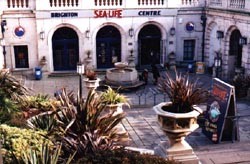 I really love the Sea Life Centre. I had my birthday party there yesterday and it was much funner than going to the park even.
We got to see the fish and feed them too. Two of my friends who are both boys kept running off and not staying with the other children when we were looking at the fish in the tanks. Then we went in that glass tunnel and saw some big sharks and it was really scary. I was too scared to stand up where you can look at the sharks upstairs on the balcony.
One of my friends said that there was a treasure chest by the sharks but there wasn't. Oh yeah! I also touched a little crab and it was really super soft. I think its name was Velvet, but I liked the sea horses most of all.