An introduction to the diver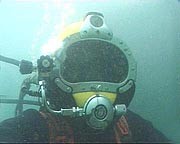 All photographs by Sean Clark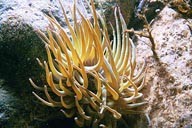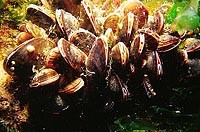 My name's Sean Clark. I'm a commercial diver, engineer, and photographer.
I was one of the supervising engineers for the diving works on the West Pier. During that time I took a huge collection of photographs, running into the hundreds. I'm in the process of making a TV documentary about it – showing the marine life and the divers at work.
Born in Brighton, lived here all my life. 27 years old. Local lad, really – that's me. "
Sean's website can be found at www.underwaterimage.co.uk
Sean also sent his photos of the West Pier to this website.
Why I am publishing these photos
I'm showing these photographs to dispel a common theory that the marine life in this part of the coast is non-existent.To give you an example, I showed a small section of a video I'd done to a TV company, and the reaction I got was: 'That's not in this country!'. So I had to go and show them a shot in which I'm on some really colourful seaweed, surrounded by sea anemones, and I surface and show Brighton beach – all in one shot. No mixes in between….
A reputation for being dirty
Brighton beach has got a reputation for being dirty – and admittedly there is a lot of sewage down there. Sometimes I do find syringes on the beach when I come out of a dive… Because of that, people think: "There's no marine life, there's no colour – it's just a barren wasteland.
Lots of marine life
I hope these photographs will show that there's a lot of marine life out there, and there's a lot of colourful things to look at. If you just go to your local rock-pool, you'll see for yourself. Failing that, go to the Sealife Centre, and look at the local exhibits – a lot of the things from there are caught just locally in the waters off Brighton.