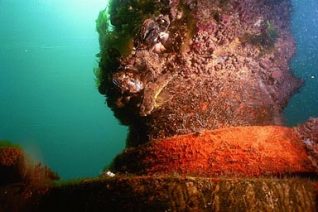 This is a bullhead, otherwise known as a scorpion fish.
We're looking at the top of a recently installed jacket, at the bottom of the picture.That is attached to the pile itself – the actual structure of the Pier – made of cast-iron. You can see it's absolutely covered in marine life: really colourful green seaweed, mussels, barnacles and whelks.
Just below you've got the scorpion fish. It's camouflaged. You can be right next to these things and not see them. Big, big eyes….
They're not dangerous. Years ago apparently the fishermen used to think they were poisonous – but they're not. Just proves that there is a strange, diverse marine life down there.