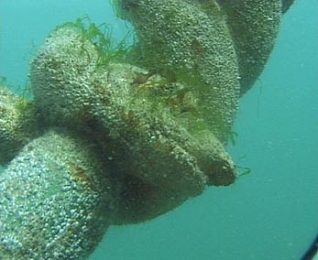 People seem to think that when things fall off the Pier into the sea, they've disappeared. But what happens is they form a reef – an artificial reef.
There used to be gas lanterns on the Pier; serpent lanterns with little gas burners on top. All in cast iron. There's quite a few of these on the sea-bed, but a lot of them are getting buried now by the sand.
This particular head fell off about two years ago. In the photo it's been on the bottom for about 2-3 weeks at the most, and already you've got lots of baby barnacles and green weed.
I went back to see it again last year and it's unrecognizable now – you've got mussels growing all over it. So you can't actually see the serpent lantern, just a mass of marine life.