Essential repairs to the pier clock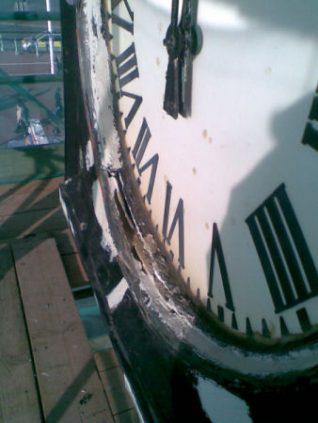 Photo by Brendan Eldridge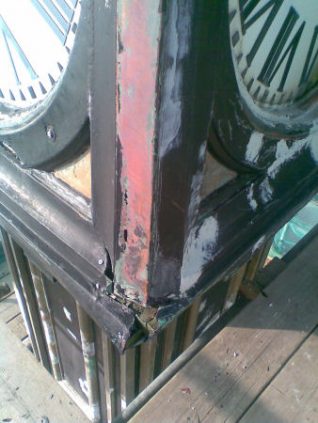 Photo by Brendan Eldridge
The original aquarium clock?

Rumour has it that the pier clock tower was originally located at the entrance to the aquarium. It is suggested that during the demolition in 1929 to make way for a new aquarium, the clock tower was sold to the Palace Pier. The clock tower which is currently located at the entrance to the pier does not resemble the original clock tower, so we can only presume that it was in a poor state of disrepair, and the only salvageable parts were the clock faces and the clocks mechanism.
Remodelled tower
The remodelled clock tower is constructed from a steel work frame, timber, cladded in zinc and painted black with various brass coloured details such as the rosettes. We are unsure when the clock tower received its last makeover but due to the recent high winds and constant rain, the tower is looking very tired.
Winter damage
During the last winter we noticed that the time keeping of the clock was slowing down and on further investigation it was found that the clock tower was no longer waterproof. Certain key members supporting the clocks mechanism were decaying, forcing the various drive shafts to bind, hence the poor time keeping.
Renovation team
The renovations to the clock tower are being carried out by a maintenance team from Hastings. The clock servicing will be carried out by one of our own Pier maintenance engineers who has previous experience working on timekeeping equipment and has maintained the Pier's clock during the last eight years.