Walking along the seafront after lunch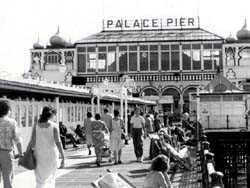 Brighton Pier will always be to me The Palace Pier.  As a child my father used to take me for a walk along the seafront every Sunday after lunch, the Pier being our final destination.
Trying to avoid the gaps!
I have wonderful memories of walking along the decking avoiding the gaps, case I should slip through to meet my fate before having had a go on the 2p slot machines and a bag of chips!
The tale of the mysterious eel
I also remember an urban myth regarding an enormous conga eel that supposedly lives/lived in the water between the Pier and the groin to the left (Hove side), the eel apparently used to feed off small children that dared to paddle at this particular spot. There is a hole in the wall of the groin with some flimsy metal caging over the entrance, this is where the eel would lay in wait for its victims."