No one went to bed: Part 3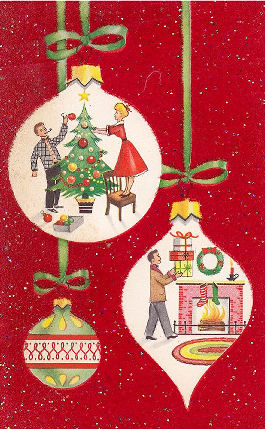 From the private collection of Jennifer Drury
These memories of a childhood Christmas were written a few years ago by Colin Chitty, a longtime contributor to the website. Sadly Colin is no longer with us, but this evocative reminiscence allows us a glimpse into a Christmas of over fifty years ago
Games in the evening
After the third cooked meal of the day, no toys were allowed as we settled down for an evening of cards, bingo or charades. We also had that horse racing game where you turned a handle at the end of a piece of cloth and the horses vibrated along it. First past the post won a Quality Street sweet and Mum changed from cook to bouncer and arbitrator, in awarding the sweet of her choice to the winner. She also slapped those that moaned too much about her decision.
Slept where you fell
We played bingo for the same reward and the fire was kept stoked up the chimney. No-one went to bed. You slept where you fell and if you were still awake at one o'clock in the morning, you could have cold meat and pickles for supper. At around seven am on Boxing Day, it all started again, but married brothers and sisters would also arrive to lend their weight to the proceedings.
Can you share your childhood Christmas memories with us? Please post a comment below
My favourite presents
The best Christmas present I ever got as a child was a red Mobo Scooter. I was caught riding this wonderful gift at six o'clock in the morning up and down the road in the snow; and I was still in my pyjamas. Funny the things you remember. One of my other most favourite Christmas gifts was a defender train set from Triang. This was absolutely terrific; it even had an exploding wagon and rockets. Priceless memories never to be forgotten.