Letters of childhood sweethearts, 1933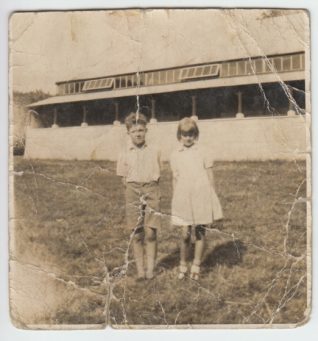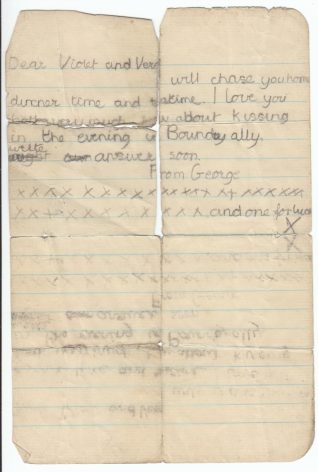 George Horrobin and Violet Baker went to school together in Brighton in the 1930s.  A set of five love letters from 1936 record the ups and downs of their relationship when they were approximately 10 years old.  The letters cover George's gift of a bottle of scent; his wish to chase Violet and her friend Vera down the road; his occasional black looks; and their carefully-laid plans to kiss in the front garden. 
The letters have been contributed to the Letter in the Attic project by George's daughter, Tricia Leonard.
I want to marry you
Dear George,
Because you gave me a letter I am going to give you one. This is the beginning of it. I want to marry you, when we are both twenty years old. I expect you want a wedding-cake. I love them very much and I expect you do too, so let's club together and get one when we are older.
Good-bye.
From your Loving Violet
Kissing in Boundry Ally
Dear Violet and Vera
I will chase you home dinner time and teatime.
I love you both very much.
How about kissing in Boundry Ally.
Write answer soon
From George
xxxxxxxxxxxxxxxxxxxxxxxxxxxxxx and one for luck x
What happened next?
George Horrobin lived his whole life in Brighton and Hove, apart from his overseas service with the RAF during and after the Second World War.  Papers from his time in the RAF have also been contributed to Letter in the Attic – see here.
Violet Baker, born in 1925 in Devonshire Street, Hove, is now Vera Blunden and presently (2008) lives in Swindon. She has no recollection of the letters or the other girl called Vera who is mentioned in the letters.
Want to know more?
View this entry on the Letter in the Attic online catalogue.
Explore the full catalogue
Visit the home page of the Letter in the Attic project