Goods yards and engine sheds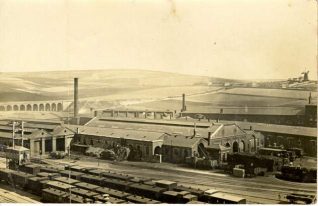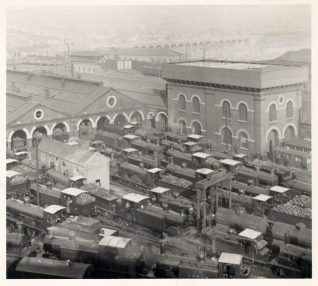 Please note that this text is an extract from a reference work written in 1990.  As a result, some of the content may not reflect recent research, changes and events.

c) GOODS-YARDS and ENGINE SHEDS: Brighton Goods-Yard, later known as the lower goods-yard, was laid out in the 1840s to the east of the passenger station and at a level thirty feet below the passenger tracks. Initially it was accessed from the Shoreham branch via a tunnel below the London line, necessitating two reversals from the main line. This arrangement was replaced in 1852-4 by a new track leaving the main line at Lovers Walk and crossing New England Road on an iron bridge to the east of the New England Viaduct. However the tunnel still exists below the station, and has since been used as a communications centre and a rifle-range. In about 1894 a large goods-shed was built to the east of the station on the site of houses in Station Street; this in turn has been replaced by the offices known as Trafalgar Place, under construction in 1990. The upper goods-yard at Lovers Walk was established in about 1870.
Further extensions to the goods facilities were made in 1905 when a coal-yard was opened on the site of Peel Place, Peel Street, Queen Street and Cavendish Place North (to the west of New England Street). The lower goods-yard was closed by British Rail in the 1970s, but it was then used by National Carriers Ltd with a few wagons daily before finally closing in October 1980. The area is now part of the huge car-park that also covers the site of the railway engineering works, and is scheduled for the massive redevelopment including New England Square; from the latter 1980s a 'giant' Sunday market has been held on the car-park. The total area covered by the station, goods-yard, engine sheds and engineering works was 44.5 acres.
The engine sheds lay to the north of the station, between the London and Shoreham lines. The main shed had fourteen roads, with an adjacent 'new shed' 483 feet long by 50 feet wide with just three roads. A combined engineering depot opened on the site on 22 April 1968 at a cost of £400,000.
Any numerical cross-references in the text above refer to resources in the Sources and Bibliography section of the Encyclopaedia of Brighton by Tim Carder.