Part 11: We're down on the beach!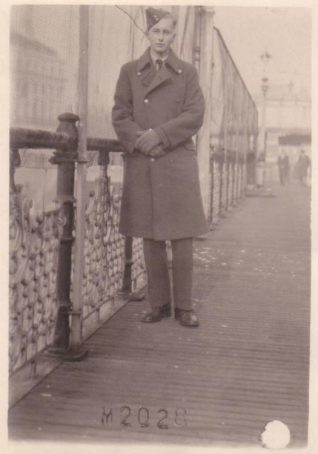 From the private collection of Tony Simmonds
[There was] barbed wire on the seafront. The piers all had a hole cut in the middle so that the German's couldn't land [and] the beaches were full of mines. There were guns all along the cliffs towards Rottingdean, big naval guns because if any of the ships came they fired from there. You couldn't get down to the bottom at all of Madeira Drive and of course the beaches, they were completely out of bounds.
I can remember we boys used to go down to the seafront when the 'buzz bombs' were coming over. We were lucky here in Brighton; they weren't aimed at us, they were aimed at London so unless they were shot down over Brighton you knew we were fairly OK . And all these guns firing like mad, firing out to sea and you would look down on this scene.
My Dad was in the Home Guard and they used the Banjo Groin for rifle practice. They had a target at the end and we boys would stand there: "Oh aren't they lucky down by the sea there?" Course when the mines had been cleared and the beaches weren't open yet again we were so envious of these Home Guard who were actually swimming in the sea. You know this was 1944, and we couldn't, we weren't allowed down there.
I got terribly burnt when the beaches first opened [in] 1945. The first one to open in this area was by the Half Brick at Lancing. I know we went down there; we went on our bikes and were on the beach all day. Of course we hadn't been on the beach for six years, and I got terribly burnt. I learnt my lesson. I had to go to the Doctor and be wrapped in bandages and goodness knows what and just because (gasps) "The beach, we're down on the beach".
Tony Simmonds was interviewed for the My Brighton and Hove website by Zoe Woods.