Part 13: War brides leaving Brighton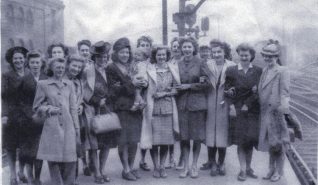 zoe.woods@mybrightonandhove.org.uk" alt="War Brides leaving Brighton Station 23rd May 1946 en route to Southampton to embark on the Atlantis destined for the shores of Australia. Joy Knight (nee Simmonds) pictured front row sixth from the right. Do you recognise any other War Brides pictured here? If you do, please add a comment to this page or email
zoe.woods@mybrightonandhove.org.uk
| Photograph from the private collection of Tony Simmonds" />
Photograph from the private collection of Tony Simmonds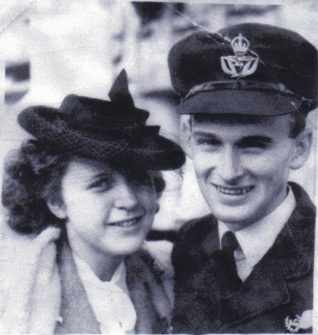 From the private collection of Tony Simmonds
Just after the end of the Second World War Tony Simmonds' sister Joy married the "very handsome Australian Air Force Rear Gunner", John Knight. She had met John whilst he was stationed in Brighton during the War. Like so many young girls, Joy eventually followed her husband to make a new life with him abroad. On the 23rd May 1946 Joy began the journey which would take her from Brighton to the shores of Australia.
The following account was written by Joy Knight (nee Simmonds) in 2003:
"After a night of crying off and on, I finally woke up and prepared to leave my family and friends to sail to Australia where my husband John would be waiting for me. He was 22 years of age that day and I had just turned 19 years.
When I reached Brighton station some of my father's staff were there as well as my family to see me off which was a lovely surprise. Not that I was very grateful at the time as I was feeling so scared of what was ahead. However, the Brighton war brides, myself included, finally arrived at Southampton to embark on the "Atlantis". A girl from Brighton who walked back down the gangway was finally persuaded to return on board, but evidently she returned to the UK three months later.
I sailed out of Southampton for Freemantle on 23rd May 1946 wondering what I had let myself in for and how I would survive. It was to be 31 days before we arrived in Freemantle.
The trip through the Bay of Biscay was horrendous and I was very sick. Most of the girls and babies were also, but we survived and soon we were in lovely sunny weather. I shared a cabin with a girl named Dorothy McNicol who was going to Adelaide.
Finally, leaving Colombo for the two weeks' steam across the Indian Ocean to Freemantle, I began to look to the future. The climate was changing daily and the sea became a brilliant glittering aqua blue while at night a myriad of stars hung in the sky. These things and the suddenness of the tropical downpour were new to me.
On a clear Sunday morning the land that was to be my home appeared over the horizon, Rottnest Island, white sands of Cottesloe Beach and tall cranes in Freemantle Harbour."
This year (2005) Joy and John Knight will be celebrating their 60th wedding anniversary.
See John's account of their wartine romance here.
Tony Simmonds was interviewed for the My Brighton and Hove website by Zoe Woods.