Part 05: Brighton bombing, 25th May 1943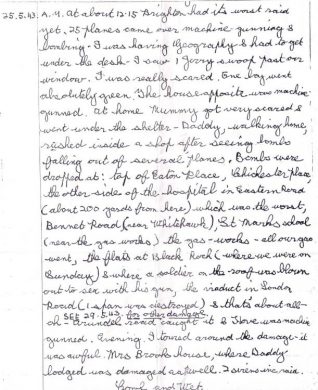 From the private collection of Tony Simmonds
Extract from the diary of Tony Simmonds:
25.5.43 A.M. at about 12.15 Brighton had its worst raid yet, 25 planes came over machine-gunning & bombing. I was having Geography & had to get under the desk – I saw 1 Jerry swoop past our window. I was really scared. One boy went absolutely green. The house opposite was machine gunned. At home Mummy got very scared & went under the shelter – Daddy, walking home, rushed inside a shop after seeing bombs falling out of several planes. Bombs were dropped at: top of Eaton Place, Chichester Place, the other side of the hospital in Eastern Road (about 200 yards from here) which was the worst, Bennet Road (near Whitehawk), St Mark's School (near the gas works), the gas-works – all our gas went, the flats at Black Rock (where we were on Sunday) & where a soldier on the roof was blown out to sea with his gun, the viaduct in London Road (1 span was destroyed) & that's about all – oh – Arundel Road caught it & Hove was machine gunned. Evening. I toured around the damage – it was awful. Mrs Brooks house, where Daddy lodged was damaged as well. 2 sirens inc raid. Cool and Wet.
29.5.43 Coming back from town on a 41 trolley-bus, we saw the funeral of the two children who were killed in Down Terrace behind our school. I didn't mention that place on my list on 25.5.
It was during this raid that the viaduct in London Road was damaged. Tony recalled:
"The rails over the viaduct in London Road I remember so well. After the big raid I remember cycling up there and looking up and seeing these rails overhanging the road where the bomb had actually bounced. It had bounced in Argyle Road, went right over the houses, bounced again and hit the side of the Viaduct. It blew all the bricks away and the rails were just left over there."
Tony Simmonds was interviewed for the My Brighton and Hove website by Zoe Woods.