HMS Lizard, Combined Operations Landing Craft Base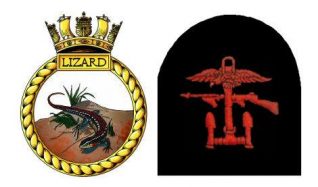 Beginnings
In the late summer of 1942 a Combined Operations Landing Craft base was established at Butt's Baltic Wharf on Aldrington Basin (also referred to as Portslade basin) Shoreham, East Sussex. The base was commissioned as an independent command with the ship's name HMS 'Lizard' on October 7th 1942, Lieutenant-Commander. F.C.M. Evans, RNVR in command. In an inauspicious start to the unit's active service, LCP (L) No.93 was destroyed by fire on the same day.
The base provided training facilities for men of the Royal Marines and Royal Navy in seamanship and survival skills to prepare them for their hazardous duties as landing craft crews. Crews participated in regular exercises, usually up the coast to 'Lizard's sister Landing Craft Base, HMS 'Newt' in Newhaven, but they were not always given advance warnings of these, particularly night exercises. Often they were awoken in the middle of the night and loaded onto Southdown buses waiting outside to transport them to their craft moored in the Portslade canal. The base also provided repair and re-supply facilities for a variety of types of landing craft, in particular LCV (P)s [Landing craft vehicle (Personnel)] & LCP (L)s [Landing craft personnel (Large)]
The establishment
As an establishment HMS 'Lizard' occupied buildings at several sites in the Shoreham and Hove area. Many of the buildings were at the bottom of Grand Avenue; Princes Haslemere and the Kingsway Hotels, and Courtenay Gate along with several others properties centred on Grand Avenue, were requisitioned for accommodation and office space. The Kingsway Hotel was used as WRNS quarters. The guard-room was in an old building at Butt's Baltic Wharf on Aldrington Basin, ratings accommodation and the LCP maintenance base were located at John Brown's Wharf. There were also facilities for LCT [Landing Craft Tank] available in Shoreham harbour. It is believed that various accommodation ships moored in Shoreham harbour provided other billets for the establishment's personnel and landing craft crews.
While 'Lizard' handled many hundreds of landing craft over its three years as an operational naval base one major unit can be traced as being attached to the base for training; the 803 LCV(P) Flotilla, Royal Marines. The 803rd arrived at HMS 'Lizard' in 1943, having formed as the 434 LCA [Landing Craft Assault] Flotilla at Dartmouth in 1942 becoming the 803 LCV(P) Flotilla when they reached Shoreham. They received new landing craft, transferred from the Royal Navy, collecting them from their berths in the Portslade Basin. This unit was to remain at Shoreham unit the spring of 1944 when it moved to Hayling Island, Hampshire to prepare for D-Day operations. LCVPs had a crew of four, three Marines and one RN stoker; most flotillas of smaller landing craft were composed of 16 vessels.
Operation 'Jubilee'
Landing craft form the newly opened landing craft bases at Shoreham and Newhaven took part in operation 'Jubilee' the ill fated allied raid on the port of Dieppe, which began in the early hours of August 19th 1942. For this operation the 4th and 5th Landing Craft Flotillas (Royal Navy) arrived at Shoreham and Easthaven in early August to prepare for the assault. Their arrival was supposed to be secret; however a miscalculation of the tides resulted in most of the small vessels running aground. All preparations to hide the flotilla's arrival were useless – they were clearly visible from the coast road. Final planning for the launch of operation 'Jubilee' was carried out at Lancing College, HMS King Alfred (L), where the Canadian Army and Royal Navy commanders Lieutenant Colonel D Menard and Lieutenant-Commander J H Dathan, finalised the embarkation plans. Canadian troops of the Les Fusiliers Mont-Royal, 6th Infantry Brigade, departed from Shoreham, being transported in LCPs [Landing Craft Personnel] crossing directly to the French beaches – an unpleasant trip in a flat bottomed craft with a top speed of 12 knots. The largest force involved in the operation comprised of 4,963 men of the 2nd Canadian Infantry Division, they were to suffer staggering casualties, only 2,210 returned to England, and many of these were wounded. 907 Canadians lost their lives, 1,946 were taken as prisoners of war
On February 22md 1943. Captain P. Hordern, RN, former CO of Coastal Forces base HMS 'Bee' (Weymouth), assumed command of HMS 'Lizard'. In February 1944 one of the largest Landing craft exercises of the war was undertaken, lasting for eight days, taking the craft as far afield as Portsmouth and Poole. This was an exhausting schedule for the crews, and tragically two men died.
Operation 'NEPTUNE'
HMS 'Lizard's last major operation was her involvement with the preparations for D-Day, June 6th 1944. 'Lizard' provided a logistic and maintenance support base for the huge numbers of vessels which crowded into Shoreham harbour in the run up to the invasion code name Operation 'NEPTUNE'. Assault Force 'S' which comprised of the 3rd British Division assembled at the ports of Newhaven, Shoreham and Portsmouth; once loaded their flotillas sailed for Spithead, Portsmouth in the early morning of June 5th to assemble in preparation for the channel crossing – their destination was SWORD beach, Normandy.
Ceremonial duties
In early June 1945 members of the Ship's company of HMS 'Lizard', and their commanding officer, Captain Hordern, attended the funeral of Captain J. N. Pelly CBE RN, commanding officer of HMS King Alfred, who died suddenly on the morning of June 6th 1945. This was a public funeral with full military honours, the coffin being carried to King Alfred on a gun carriage followed by contingents from surrounding naval, army and air force establishments.
Run down to closure
Captain WCT Eyres formerly CO of landing craft bases HMS 'Sea Serpent' (Chicester) and HMS 'Cricket' (Burseldon) assumed command of HMS 'Lizard' in August 1945. The base began to run down towards eventual closure after VJ Day, August 15th 1945, shortly after this date LCG(m)180 was the first of many craft to arrive at 'Lizard' to decommission.
The establishment was reduced to care & maintenance status on October 21st 1945, Captain WCT Eyres, presented the ship's bell to the Mayor of Hove, Alderman AH Clarke, the following day `as a memento of the happy relations which have existed since 1942 between the officers and men and the Borough of Hove.' At the time of its closure on December 31st 1945 more than 50,000 men passed through HMS 'Lizard'.
Note: A more detailed version of this history is to be found at www.royalnavyresearcharchive.org.uk
Sources:
Warlow, B. (2000) Shore Establishments of the Royal Navy (Second Edition) Liskeard, Maritime Books
Middleton, J. (2002, 2003) 'Encyclopaedia of Hove & Portslade' Vol.8, I to L Brighton & Hove Libraries
803 LCV(p) Flotilla
Frampton, P. (2001) http://www.war-experience.org/803flotilla/index.html
Combined Operations Training in the UK http://www.combinedops.com/Training EST UK.htm
THE DIEPPE RAID: A TRAGEDY SIXTY TWO YEARS AGO
http://www.24hourmuseum.org.uk/trlout_gfx_en/TRA13494.html
BR. 1736(26) NAVAL STAFF HISTORY RAID ON DIEPPE (NAVAL OPERATIONS)
Lancing College and Operation "Jubilee", the Dieppe Raid 1942
http://www.northlancing.com/History/Lancing%20College/Lancing%20College%20and%20the%20Dieppe%20Raid%201942.htm