Papers related to the Smart family (1917-90)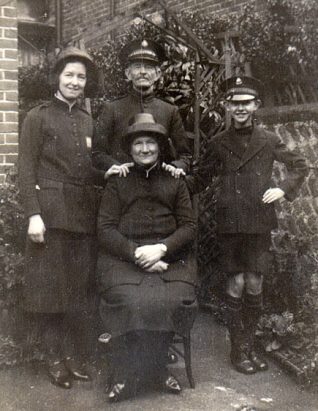 Frederick Harry Smart (1871-1973) was born in Arundel in 1871 and moved to Hove in 1914, buying a newly-built house in Elm Drive, Hove, in 1933. He and his family were members of the Salvation Army, and Frederick was the corps treasurer of the Hove Citadel.
Frederick Smart also served as a Special Constable during the First World War. Below is an extract from the document which listed his duties.
Exract from Special Constables Order, 1914
Conduct towards others
Let your conduct towards all persons, of whatever rank or class, be marked by kindness and civility. Be careful not to handle prisoners more roughly than is absolute; necessary for their security. Endeavour under all circumstances to keep your temper under control. You more obtain assistance when you require it from bystanders if you perform your duty quietly and with good humour than by adopting an opposite
course.
Gossiping
Be very reserved, particularly with strangers on all points connected with your duties and the arrangements of the Police Force. It is frequently through the communicativeness of inexperienced and unsuspicious Constables that thieves obtain information which enables them to effect robberies without detection. You must be cautious not to interfere width anyone unnecessarily. When required to act you must do so with discretion and firmness and never push or lay hands upon a person unless to take hin into custody.
Copies of the papers of the Smart family were contributed to Letter in the Attic by David Smart.
Want to know more?
View this entry on the Letter in the Attic online catalogue.
Explore the full catalogue
Visit the home page of the Letter in the Attic project