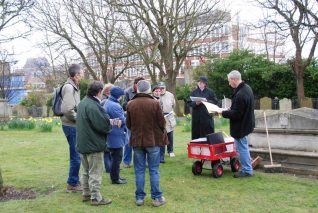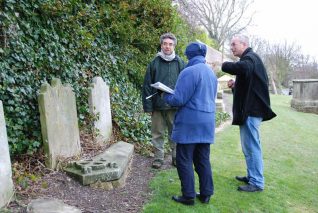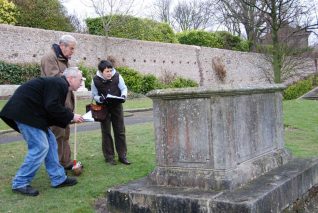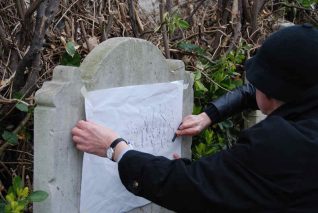 On Saturday March 8th, the SNCGSA (St Nicholas Church Green Spaces Association) held the first of its new programme of heritage and local history events in the St Nicholas Rest Garden. Although the weather was poor, a good turnout ensured a positive and productive start toward the Association's 'Mapping the Past' initiative.
Mapping the monuments
'Mapping the Past' is a joint initiative between SNCGSA and Brighton & Hove council which aims to improve the understanding of the St Nicholas Church Gardens as an important heritage site in the City. As the existing documentation and mapping of monuments is dated and incomplete, it is important to try to update these records, both to increase the enjoyment and value of the site generally, and to provide a resource for those engaged in family or local history research.  As we have no site plan for the Rest Gardens, our first task was to try to identify monuments from their (often illegible) inscriptions.
A plan for future work
Future tasks will include: continuing work to identify and locate monuments, creating a new site plan for the rest gardens, undertaking research on the lives and histories of those remembered and producing interpretation materials and a possible St Nicholas 'Heritage trail', and developing a Heritage Lottery bid to assist with the restoration and repair of key heritage features at the site. The workdays will also serve as 'drop in' sessions for anyone with questions relating to the monuments or those remembered which we may be able to assist in resolving.
Details: Simon Bannister simon.bannister@brighton-hove.gov.uk