Benny Hill's standing ovation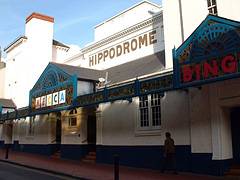 From a private collection
My schoolfriends and I started to visit the Hippodrome about 1956/7.  As young teenagers we had to go there to see the very rude Benny Hill singing one of his madrigals containing a words rhyming with 'a lover and his lass', although he pronounced it "a lover and his larse". He had done the sketch on television a few weeks earlier and the public were outraged at such obscenities on public broadcasting. We bunked off school to go to the box-office when we heard he was coming and although we were quick, almost all the tickets had gone. I'd never seen a standing ovation before, but I believe he got one for every single performance.
Norman Wisdom
I remember Norman Wisdom in an oversized penguin-suit, trying to sing opera to a piano accompaniment. Shortly after starting he got the (intentional) giggles. Very soon the entire theatre was laughing hysterically. More standing ovations.
My first visit with my first love – Frankie Vaughan and 'Green Door'. I didn't want to go but she did. So I took her. Young love!
Lesser spots on the bill
Lesser spots on the bill saw the likes of Roy Castle, Dave King, The King Brothers, Shirley Eaton, Lenny the Lion, Hilda Baker and many others, all starting to become well known mainly because of the 'box'. Sadly, after a television appearance many of them never went back to the variety halls. The 'one-eyed monster' in the corner of the room contributed enormously to the theatre's downfall.
And who can forget the name smack dead centre on safety curtain's advertisements:
"A. BRICK – Glass Merchant"