General Manager's farewell in 1938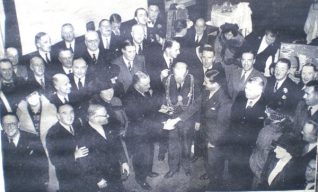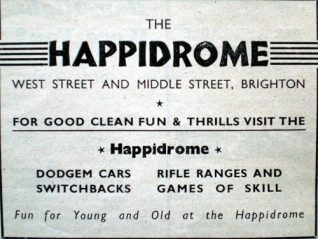 This photo was taken in October 1938 and shows the presentation of a farewell gift to Mr Gerald Hornby, the popular General Manager of the Hippodrome.  A farewell luncheon was hosted by fellow local entertainment managers of Brighton. Mr Gerald Hornby will be taking up the position of General Manager at the London Hippodrome.
Presentation gifts
A sold gold watch and an engraved silver salver were presented to him by Alderman H W Aldrich; the silver salver had been inscribed with all the signatures of the entertainment managers. John Caruana (manager of the SS Brighton) and Billy Boucher (coach of the Brighton Tigers) are amongst the guests.  Many of the other guests would have been well known in Brighton as the entertainment industry at the time was thriving in the town.
A favourite venue for the stars
The Hippodrome would have been at its height of popularity with many famous entertainers appearing there, the list is far too many to name here.  Max Miller was one famous name who was always on the lips of Brighton residents and was a regular there.  Lawrence Olivier also made his first stage appearance there and lived in the town for many years. Originally opened as an ice rink (The Brighton Ice Rink) the Hippodrome has gone through many changes and now in 2007 awaits its next turn in history with the proposed new music venue.
The Happidrome
Opposite the Hippodrome in Middle Street was a large covered entertainment area that had an entrance in West Street as well as Middle Street.  It was called the Happidrome although I believe it was nothing to do with the actual Hippodrome Theatre.  This building housed many types of entertainment which included bumper cars, rifle ranges and so forth.  In later years it was used a depot for the GPO and eventually a car park.  On the site today is a very smart block of apartments.