A complaint to the town commissioners, 1844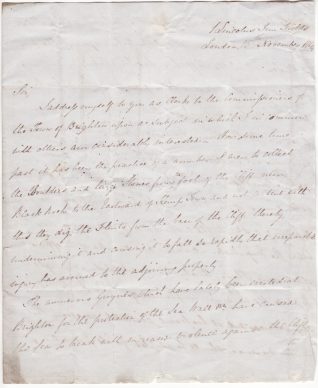 Three unrelated documents were found among the rubbish lying on the floor at 210 Kings Road Arches in the mid-1970s by Chris Skingsley when the Brighton branch of the British Sub-aqua club moved into the premises.
One of the letters is addressed to Lewis Slight, Clerk to the Brighton Town Commissioners, complaining about men taking boulders and flints from the beach and cliff near Black Rock.
20th November 1844
"For some time past it has been the practice of a number of men to collect the boulders and large stones from the foot of the Cliff near Black Rock…Not content with this, they dig the Flints from the base of the Cliff thereby undermining it and causing ….irreparable injury…
NB we have a postcard showing the landslip at Black Rock slightly later"
The documents have been contributed to the Letter in the Attic project by Chris Skingsley.
Want to know more?
View this entry on the Letter in the Attic online catalogue.
Explore the full catalogue
Visit the home page of the Letter in the Attic project