Norton House and The Grange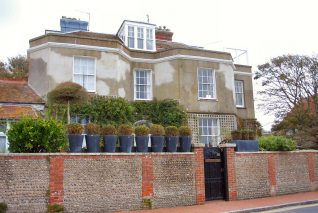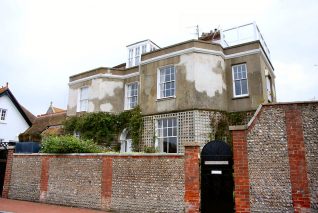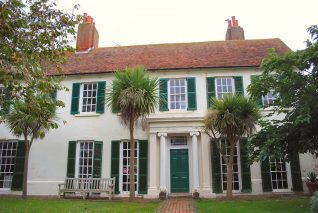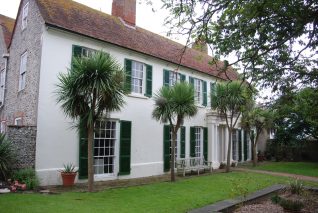 Please note that this text is an extract from a reference work written in 1990.  As a result, some of the content may not reflect recent research, changes and events.
e) NORTON HOUSE: A large, listed house of the early nineteenth century, unfortunately rendered.
f) THE GRANGE: A listed Georgian building with an Ionic doorway, window shutters, and an ornamental pond behind a cobbled wall. It was probably built in 1740 as a vicarage, which role it performed until 1908, but was given its present name by the artist Sir William Nicholson who lived there from 1912 until 1914. The northern wing was added in about 1800, and the house was restored in the 1920s by Sir Edward Lutyens for solicitor Sir George Lewis. In 1953 it was purchased by the corporation and now houses the Rottingdean Library, part of the National Toy Museum, a Kipling museum, a Rottingdean history room, and a number of paintings. It is also said to be haunted by the ghost of the Black Prince, who may have visited a house that once stood on the site.
Running alongside The Grange is:
g) WHITEWAY LANE and VICARAGE TERRACE: This lane, which becomes a bridleway as it ascends East Hill, is an ancient route to Saltdean Vale which is said to have been used by smugglers. On the northern side stands the Whiteway Centre, built of wood and flint with an unusual fish-shaped weather-vane, and opened on 20 April 1974 for social and educational activities; adjacent is the Rottingdean Primary School. On the opposite side is the Roman Catholic Church of Our Lady of Lourdes, Queen of Peace, consecrated in 1958 by the Bishop of Southwark and constructed of local flint.
The six charming cottages of Vicarage Terrace are all listed buildings. Nos.5-6 at the far end are eighteenth-century houses faced with flint. No.4 is also a rough flint cottage, believed to be the oldest in the village, while nos.1-3 have flint-cobbled fronts, glazing bars and window shutters, and date from the early nineteenth century.
Any numerical cross-references in the text above refer to resources in the Sources and Bibliography section of the Encyclopaedia of Brighton by Tim Carder.