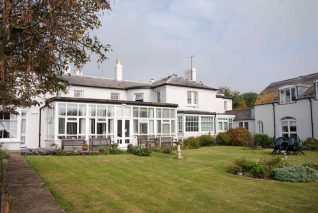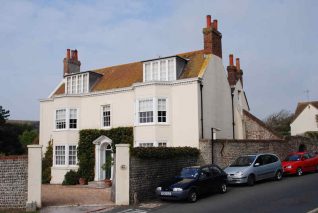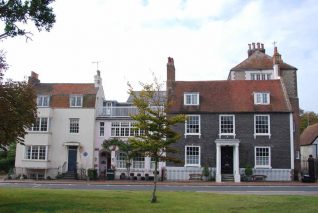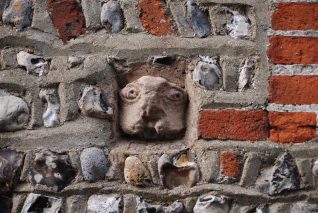 Please note that this text is an extract from a reference work written in 1990.  As a result, some of the content may not reflect recent research, changes and events.
On the southern half of the Green stands:
a) THE DENE: A listed building dating from the early nineteenth century, it was previously known as Elm Lodge and Dean Court, and was used as a racing stable by Lord St Vincent. In 1877 it was acquired by E.L.J.Ridsdale who rebuilt and enlarged the house, giving it its present name. It is now a residential hotel. The garden walls and the former stables are also listed.
At the centre of the Green stands:
b) THE ELMS : Dating from the eighteenth century, this listed house has a broken pediment doorway and angular bays, but the rendered facade is now covered in ivy. In 1897 the writer Rudyard Kipling moved into the house, to be near his aunt Georgina Burne-Jones at North End House, and while living there wrote Kim, Stalky and Co., many of the Just So stories, the poem 'Sussex', and the hymn 'Recessional'. However, he was subjected to the gaze of curious passers-by and in 1903 moved to Batemans near Burwash because of the lack of privacy.
The house's large garden, surrounded by a listed flint wall, was thankfully saved from development and opened to the public in April 1986 as the Kipling Garden; it won a council planning award in 1988. In the eastern garden wall, just south of the Dean Court Road junction and about six feet from the ground, is a face-like stone which was formerly situated in the churchyard . It is a 'wishing-stone', and anyone who wants a wish granted should stroke the nose with the right forefinger and turn around three times as the wish is made; do be wary of the traffic, though!
Any numerical cross-references in the text above refer to resources in the Sources and Bibliography section of the Encyclopaedia of Brighton by Tim Carder.