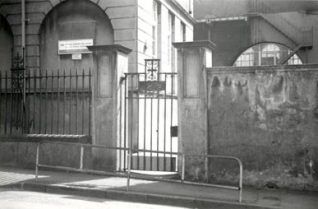 Over-priced uniforms
I attended the school from 1955 to 1960. My father went to an introductory parents meeting and noted down on the back of the school brochure the cost of each item of clothing needed: Cap 8/11  Tie 7/6  Blazer £2/17/6  Socks 10/6, as well as other items like pullover, scarf and rugby shirt. We all started with blue bib and brace overalls for workshop practice, obtained from Bishops of Bond Street. We had only been at the school a couple of years when some parents persuaded the school that the expensive blazers with the gold and blue braid all round, only available from Horton-Stephens, were really too dear, so plain black ones were allowed [with the school badge]. Mums went and bought cheaper, black blazers from M&S and then sewed the old badge on from last year's outgrown blazer.
Did you attend this school? Have memories to share? Please post a comment below.
Special lasting memories
I remember that the school playground was tiny. Was Mr Berry, the caretaker, the only caretaker to throw water on to the playground to create a slide for us on frosty mornings? Then there were the smelly cloakrooms; more so on a wet day with dripping raincoats, and the wooden lockers [keys 3 shillings]. What about the huge mural in the canteen? Does anyone remember the cut through across one corner of the gym, to the other block of the school which was used by pupils on pain of death. The cigarette smoke that billowed out of the staffroom when you were sent there with a message is a lasting memory. And of course the rush from that very staff room, out along Coleman Street to the pub at lunchtime.