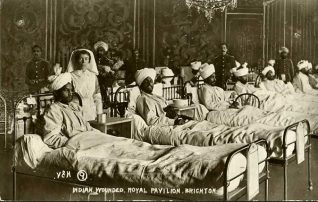 From the private collection of Tony Drury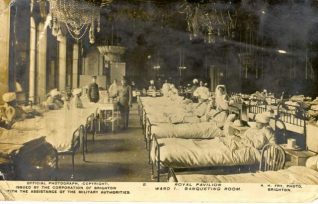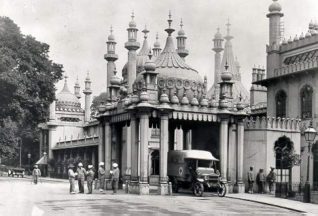 Please note that this text is an extract from a reference work written in 1990.  As a result, some of the content may not reflect recent research, changes and events.
e) FIRST WORLD WAR HOSPITAL: During the First World War the Royal Pavilion estate, including the Dome and Corn Exchange , was offered by the corporation for use as an Indian military hospital . A high wooden fence was erected around the grounds to protect patients from prying eyes, the first of whom were admitted on 1 December 1914, and by the time the last Indian was evacuated on 15 February 1916 a total of 4,306 patients had passed through the 724-bed hospital. From 20 April 1916 until 21 July 1919 the estate was given over to the Pavilion General Hospital (for limbless men) which received 6,085 admissions. The South Gate, and also the Chattri at Patcham , were later erected as memorials to the Indian dead and wounded. On 28 August 1920 the military released control of the Royal Pavilion and the public were admitted once again.
Any numerical cross-references in the text above refer to resources in the Sources and Bibliography section of the Encyclopaedia of Brighton by Tim Carder.