As a palace it is pretty poky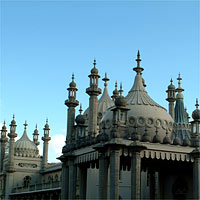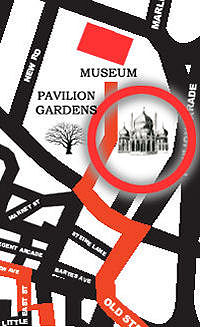 The Royal Pavilion is a Western idea of an exotic place. It's been compared to a Moorish palace, an Indian temple, and the Kremlin. For a royal palace, though, it's pretty poky. If you look at the front of the building, you can see the original 3-bay Georgian farmhouse. It's basically a two-storey house with twiddly bits.
The gardens are based on original plans by John Nash. However, the prince ran out of money, so the plans were never implemented till a few years ago. Instead, Great East Street, as the road to London was called, ran across right in front of the Pavilion.
There's a lovely open-air café in the gardens. This was originally a seaside refreshment booth, moved here during the Second World War, when the seafront was out of bounds. The same family still runs the café. You can sit out under the trees, look at the Pavilion, and listen to someone playing an oboe or a saxophone.