Drag racing on Madeira Drive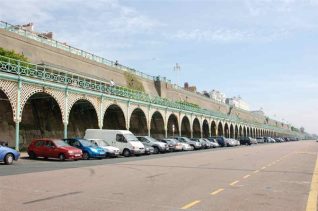 ©Tony Mould:images copyright protected
'Skeletal' racing cars
Many motor or motorcycle races have been held on Madeira Drive, over the years. One of the most exciting, perhaps, was drag racing, in the 1960s. The drag car had huge racing tyres at the back and it stretched out to two, tiny wheels at the front. The build of the car was 'skeletal'. There were no brakes on the front wheels. Breaking was achieved with the help of a parachute that shot out of the back of the car. These were in no sense cars for the road. In those days, the cars were built for drag racing and were not modified road vehicles. 
Did you ever attend races or speed trials on Madeira Drive? Share your memories by posting a comment below
Not really races

Using a huge engine and a terrifying amount of power, the driver shot off the starting line and the front of the car rose up from the road and continued in that way for quite a bit of the drive. Speeds were incredible, as was the amount of tyre left on the road. From the pier end of the drive you could see the car, with its front wheels now on the deck, finishing the measure course. The parachute was released and the car slowly came to a halt. These weren't 'races' in the traditional sense. One driver went off at a time and the aim was to get the fastest time over the measured course. I think, too, that these were more demonstrations than actual time trials. 
Serious accident
On one occasion, standing near the pier, we saw a huge plume of smoke rising at the Peter Pan's Playground end of Madeira Drive and the racing was stopped. Later, we read in the Evening Argus that there had been a major accident, and that a drag car had smashed into the railings. I believe that the crash was a fatal one for the driver. After that, I think all plans for drag racing were shelved. I know that, later, other forms of racing were held on Madeira Drive but, perhaps, none as dramatic or foolhardy as this.