Volk's Electric Railway 1904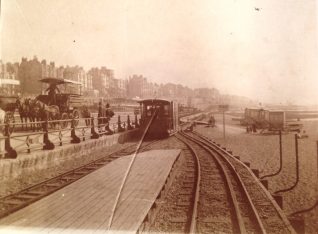 From the private collection of Sam Flowers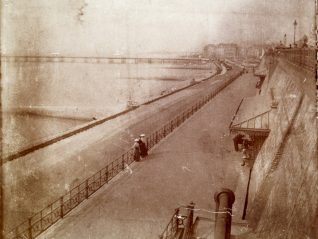 From the private collection of Sam Flowers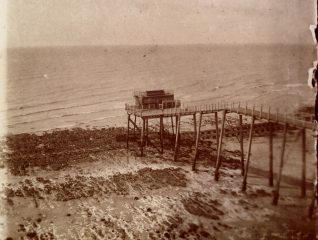 From the private collection of Sam Flowers
I hope these views are of interest. Your comments and/or further information are very much welcomed.
1st Photo :-
Is this railway carriage still in use? Also worth noticing are the bathing machines, the sign (can anyone suggest what it might have said?), plus the horse-drawn omnibus (were three horses usual for this purpose?).
2nd Photo :-
Early morning, judging by the angle of the shadows and the emptiness of the scene; it must have been very peaceful. It can be seen along this stretch how the railway track and Madeira Drive ran parallel to each other and were very close to the sea at high water. The spray would sometimes break over. Next to the nearest groyne is a set of steps showing the significant drop from the road to beach level. The Palace Pier's Winter Garden had yet to be constructed.
3rd Photo :-
The intermediary Ovingdean Gap halt of Volk's "Daddy Longlegs" Railway, but photographed soon after the line had closed.  The trolley standards and wire were immediately dismantled, and as seen here, the Sea-Going Car was moored to the jetty until 1910 when both, in serious decay, were completely removed. From 1907 new groynes broke the redundant track into disconnected sections of approximately 500 feet.  By 1914 most of the rail had been salvaged, leaving only the concrete sleepers, many of which remain today.