Cercle Français de Brighton et Hove centenary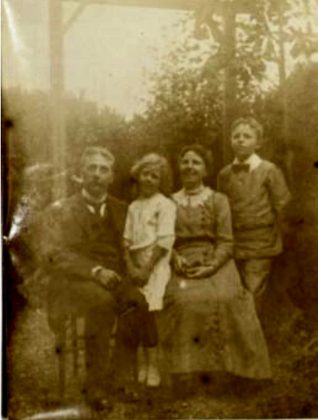 East Sussex Records Office ACC7842/2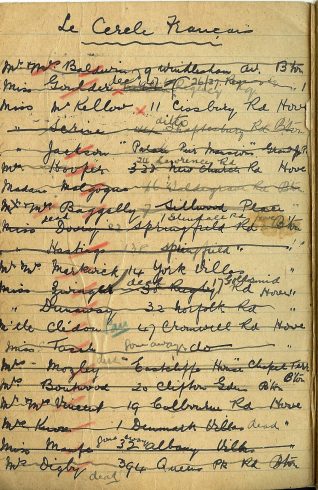 Brighton and Hove French Circle
Plight of Belgian refugees
In the dark days of August 1914, the population of Brighton and Hove was taking to its heart the plight of Belgian refugees who had been bombed and bayoneted out of their homes in Antwerp, Namur and Liege.  Many of these refugees spoke only Flemish, some spoke only French; it was this latter group which drew the attention of the Francophiles in our city.
Fundraising, accommodation and clubs
By 1915, concerts were being given in halls and hotels to aid the refugees.  Hostel accommodation was provided at 13 Chesham Place in Kemp Town and 22 St Aubyns in Hove.  There were clubs for Belgian working men at 5 Manchester Street, as well as one for ladies at 7 Chesham Place. On 2nd October 1915, a Belgian Flag day raised over £832/ 9s/ 5d, this was enough to keep the community of some three hundred refugees fed and housed for nearly ten weeks.
Plight of French soldiers
The plight of French soldiers was not forgotten.  A French Flag Day on 14th July 1915 raised over £1,000. The French Red Cross was active in both Brighton and Hove in the form of a contingent of French Red Cross nurses. Co-operation between the Brighton and Hove Red Cross and the French Red Cross continued for many years, latterly through the good offices of French Circle member, the late Geoffrey Spence.
Help from local people
But many, many more local people had the best interests of the Belgian refugees and the French wounded at heart.  Emilie Markwick and her husband Herbert were of this persuasion. Mrs Markwick had been born into the Dorlencourts whose family members were based in Boulogne; an easy target for the invading forces in 1914.  There was also Mr Edmund Chaplin Baldwin OBE, FCA.  Mr Baldwin was an accountant by profession but so keen on France and all things French that he became the first President of the Brighton and Hove French Circle in 1915. His Vice-President was Emilie's father, Monsieur Adolphe Dorlencourt.
A strong group still exists
The Brighton and Hove French Circle is still going strong today and meets twice a month. Meetings are conducted in French and are the perfect, informal way to brush up your French or keep in touch with all things French.  Our centenary celebrations will take place on 14 th March 2015 at the Hove Club: French songs and dance demonstrations – mainly English will be spoken! All welcome.
Website: The Brighton and Hove French Circle