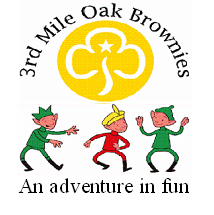 3rd Mile Oak Brownies started in 2001 with 10 girls, 2 leaders and 1 young leader. We started with only the subscription money paid by each girl weekly, so evenings consisted of craft we could make from cheap items such as paper, card and wool. Outings were out of the question as we could not afford this luxury, so most of the summer term was spent playing games at the local park.
Fast growing group
Our unit didn't take long to grow to full strength of 18 girls and a 3 year waiting list. In 2006 we took on 6 more girls along with another leader and in an attempt to reduce the waiting list closed it to girls over the age of 5 years.
List for places filling quickly
Now in 2008 we are back to 18 girls and the list has re-opened, although is filling up quickly so if you have a daughter who would like to join our group you need to get in touch now regardless of how young your daughter may be. Places can always be turned down later if they are no longer needed.
Further information
For information or to put a name on the waiting list visit our website at www.3rdmileoakbrownies.co.uk