Harry Vowles: 'Blind Harry'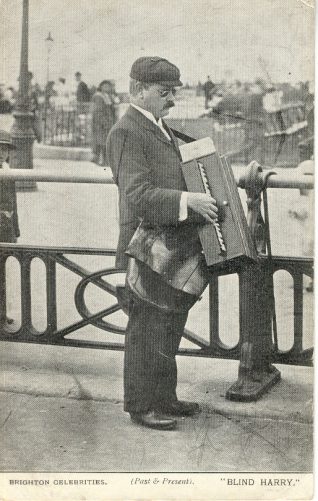 From the private collection of Chris Vowles
This postcard shows my grandfather 'Blind Harry'.  He was born Henry Richard Vowles, on the 1st January 1861 in Lambeth, London.  Harry went blind at about three weeks old and was put into a Blind Home to live.  He was taught to play a number of musical instruments, but his main asset was his fine tenor voice.
A popular local entertainer
Harry Vowles moved to Brighton in 1882.  To earn his living he sang in the big houses around Brighton, and entertained in local hotels like The Ship Hotel.  He was a regular performer in the Music Halls and had a pitch on the Brighton/Hove border, where the Angel of Peace statue now stands.  He married Alice Vaughan in 1885 at St Nicholas' Church and they went on to have nine children and lived in Upper Russell Street.  During WW1 he spent a lot of time entertaining the troops stationed in the Brighton area. He died in 1919 when the Spanish influenza virus swept the country.
Looking for descendents
There are a number of his descendents still living in the Brighton area, who unfortunately I am not in contact with.  I would love to hear from them!   I am just about to begin a book about Harry Vowles' life and would appreciate any information about him.  I can be contacted via my email which is: chris.vowles@talktalk.net