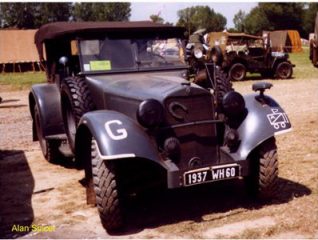 From the private collection of Alan Spicer
Like Jerry Lee Lewis
My first encounter with Kenny was when my elder brother Mick took me with him to a scrap yard in Popes Folly, off Hollingdean Rd at the age of around 12 . Kenny always wore a battered leather jacket and had plenty of hair combed back Jerry Lee Lewis style.
Victims of Ken's gas axe
The yard was full of treasures. My favourite, which I called 'The Clowns Car' because of its orange and blue paintwork and cut out sides with no doors, was in fact a WW2 Mercedes Kfz12 staff car. It would now be worth a vast fortune but unfortunately became victim to Ken's gas axe along with many other future classics. Ken would often go into very serious stories and only after a good 15 minutes or so would it dawn on you that he was spinning a yarn.
A funny tale
But one tale I always remember is when Ken told us of how he was stopped by the police and asked "Excuse me Sir, but we have been following you for the last hour and you have stopped in a suspicious manner looking at various vehicles parked in several locations around the town. Can you please explain what you are doing ?" Kenny replied "Certainly officer, stock taking".  He would then burst into laughter in his hoarse voice not unlike that of Tommy Bruce the singer.
A real character
I still saw Kenny around in later life, and he never changed. He was a real character whose motto was "My word is my bond", and this was printed on his business card for Magnet Motors .