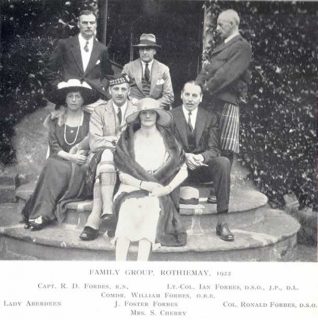 From the private collection of Patrick Benham
In June 2005 an enquiry on the website calling for information about John Foster Forbes got me writing, as I knew the man well in his last couple of years of life. I have been invited to post these thoughts on the site and the following is a slightly edited version of the original piece.
An eccentric
John Foster Forbes was in general terms what would be described as an eccentric. His last residence was a bed-sit in Regency Square where he lived with his corgi dog Rufus, opposite the then fully-functioning West Pier. He had been born under the sign of Taurus into a minor Scottish aristocratic family at Rothiemay Castle in Aberdeenshire in 1889, attended public school and Cambridge and served in the Great War as an army intelligence officer. Subsequent to this he took up school-mastering and even at one time ran his own school catering for just a handful of pupils. In those days Forbes was consuming considerable quantities of strong Turkish cigarettes and booze. Even so, he was developing a fascination for prehistory, and took to investigating the many Neolithic and Pictish monuments of his home county of Aberdeen.
Transition and the Order of the Cross
Before long Forbes fell into some kind of mid-life crisis and became very ill. It seems he was only rescued from this by the timely intervention of some kindly Scottish members of the Order of the Cross, a vegetarian and tee-total mystical fellowship founded in the early 1900s by the Rev John Todd Ferrier, a former Congregational minister, who was then still living.
Newly inspired and with restored health, John Forbes became a member of the Order and took to publishing tracts extolling the wisdom of the ancients and the high culture which he believed once existed in the British Isles, forging an amalgamation of Todd Ferrier's visionary teaching and biblical interpretations with his own interest in pre-Roman antiquities. He was much taken up with the Atlantis question and lectured frequently on that topic.
Quite a lot of the information he was putting out about the history of various sites was derived from the reports of certain psychics, notably Olive Pixley and Iris Campbell, who used to psychometrise the ancient stones with him, giving out their psychic impressions verbally at the various locations. One 'reading' by Miss Campbell was even taken at St Nicholas's churchyard in Brighton.
A solitary life
Forbes led a solitary life, moving around from one rented accommodation to another quite frequently, both in England and Scotland. For someone of his background, he hired himself out for remarkably menial tasks such as gardening and odd-jobbing to earn his daily crust. He was at one time living at Wroxton Abbey in Oxfordshire, and gave some radio broadcasts on the history of the place, which were also published in the BBC journal The Listener. This was in the late 1930s. A few years after this he did extensive research on the old rivers of London, overground and underground, and mailed the typed-up volumes representing hours of labour in a package addressed to the BBC in London. They claimed it never arrived; he had made no copies and did not feel inclined to set about the task again.
A late marriage
He married rather late in life to a woman even older than himself. They evidently resided at a place called Sele Court at Beeding. It was a pleasant time; Mrs Forbes was "very kind" to him, he recollected later, and there was easy access to the Downs for a spot of horse-riding whenever the mood took his fancy. It was not much of a marriage in the conventional sense. At some point the good lady died and left him a small legacy which he employed to finance his ongoing research projects. He then moved to Brighton.
UFOs
With the advent of the flying saucer phenomenon soon after the war he immediately made a connection between ancient sites and extraterrestrial visitations in the past. The wise ones from other worlds were returning! Somehow one of the national tabloids got wind of his activities and poured scorn on an unsuccessful attempt by Forbes, along with UFO-cult guru George King, to make contact with the new visitors by collecting together a group of sympathisers one night at Avebury stone circle in Wiltshire. The TV cameras were there and the paper next day bore the headline 'Appointment with Venus not Kept!'. He forever blamed the media for spoiling the intended outcome.
Personal connections
I first met John Foster Forbes during the winter of 1956/57 at the Brighton College of Arts and Crafts where I was a student and he was a costume (ie clothed) model. While we sat there drawing this rather interesting character, he would hold forth continuously on the topics discussed above, his dog at his feet. At other times we would go round to listen to more of all this in his rooms in Massingham's Vegetarian Hotel, Norfolk Terrace, a building which also housed the meeting place of the local branch of the Theosophical Society, where he would sometimes speak. A topic of those days for his public lectures was often "The Spiritual History of Brighton"!
A lasting influence
His next move was to Regency Square, as stated at the start. He died in July 1958 in the Brighton General Hospital after complications following an operation for peritonitis. He was 69. Although I now tend to think of many of his ideas as fanciful and unfounded, they were sincerely held and I willingly acknowledge that he has had a significant and lasting influence on the direction of my own life. His four self-published books were The Unchronicled Past, Giants of Britain, Ages not so Dark and The Castle and Place of Rothiemay.
You may also be interested to read the following article in which John Foster Forbes gives a psychometric reading of a stone: http://www.sussexarch.org.uk/saaf/qsm/qsm1.html#article2