'Scotty' Gunn: prize-fighter and fisherman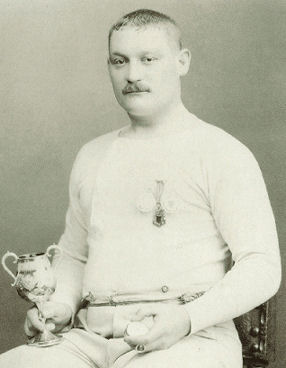 From the private collection of Richard Gunn
Well-known local character
Mr Richard 'Scotty' Gunn, was a well-known local character both as a fisherman and a prize fighter. He lived at 15 Kent's Court, Upper Russell Street, and died in 1930 at the age of 65.
Born in 1865
Born in Brighton in 1865 'Scotty' soon began to win fame through his great strength. He earned his living as a fisherman, but as a young man he resolved that he would someday win the boxing championship of Sussex. The purses in those days were so small that he was unable to keep himself by boxing, and had to train as best he could while ashore from fishing.
Member of the lifeboat crew
He was also a member of the Brighton lifeboat crew and as he took part in a number of rescues he was still further hampered in his ambition. His resolution was unshakeable, however, and he gradually disposed of all competitors who barred his way. His first public fight was in the eighties against Harry Golds. The fight was fought in a ring pitched in a room of a public-house at Preston, and 'Scotty' won by a knock out in the second round.
Knocked out all comers
'Scotty' continued on his all conquering path, knocking out all corners. All his fights were fought with the "raw 'uns" – the "mufflers" were only used for sparring – and the place of the battle always had to be kept secret from the police. In 1889 his great match took place with Albert Guy for the championship of Sussex and £10 aside.'Scotty' was then a tall powerful man of 14 stone, with a tremendous punch, and, he knocked Guy out after having matters all his own way. In recognition of his prowess he was presented with a silver watch, cup and medal, which his family still treasure.