Letter from Sidney Horrobin, 1939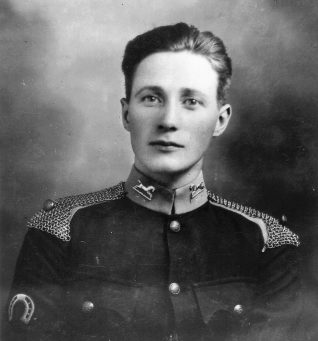 Contributed to Letter in the Attic by Tricia Leonard
Sidney Horrobin was born (ca 1900) and brought up in West Ham, London. He served as a professional soldier with the King's Own Hussars in Egypt and India, before returning to a posting in England towards the end of 1932.
He spent at least some of the years between 1933 and 1939 in Aldershot but
Sidney died of double pneumonia on 22nd January 1939, leaving a young wife, Elsie, and a son, Keith, aged 3.  He appears to have been based in Yorkshire when he died, having attained the rank of Sergeant.
Written the day before he died
"My Dear Mum, You can see how much better I am, as they are allowing me to write letters.  I am a bit shaky of course, but that will wear off….How is Keith? Tell him his Daddy sends "lux, lud lot of luds". I have nearly finished my 2nd bottle of champagne….Love & kisses to everybody…"
This extract forms part of the contribution of letters and papers contributed to the Letter in the Attic project by Sidney's great-niece, Tricia Leonard.
Want to know more?
View this entry on the Letter in the Attic online catalogue.
Explore the full catalogue
Visit the home page of the Letter in the Attic project