'The Victorian Development of the Clifton, Montpelier and Powis Estates of Brighton'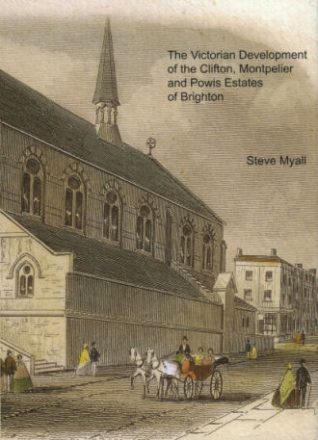 In 1994, Steve and Anthea Myall were involved in the award winning touch screen exhibit called 'My Brighton' at Brighton Museum.  As they are Clifton residents, they naturally researched and wrote about their own area.  The original museum exhibit was then transferred to an interactive CDRom.  In 2000, with funding from Brighton Council, the material from the CDRom was used to create 'My Brighton and Hove' website.  As we all know, that original site went from strength to strength and is now composed of almost 9,500 pages.
Steve Myall also continued to research his original topic, originally as part of a BEd Hons degree at Brighton University.  When his degree was completed, Steve continued to research the history of his neighbourhood and eventually had collected enough material to publish a book.  His attempts at getting the manuscript published were unfortunately unfruitful; it was he was told, 'too specialised'.  But Steve persevered and decided to publish privately.
The resulting publication is 'The Victorian Development of the Clifton, Montpelier and Powis Estates of Brighton'. Anyone who wishes to learn about the development of the earliest, most central and important Victorian residential area in Brighton, would be well advised to acquire this tour de force of research.  It contains a great many new and previously unpublished facts, many of which were gleaned from sight of private house deeds.
While providing a wealth of facts, the book is presented in a very accessible style which makes it an enjoyable, as well as an informative read.  Readers will be fascinated by many illustrations, including an 1839 advertisement for the first house to have been built on Clifton Hill .
The book is for sale in City Books, Sussex Stationers, Borders, Waterstones and WH Smith.  It is priced at £19.99 – hardback 180 pages with 80 illustrations.