The New Encyclopaedia of Brighton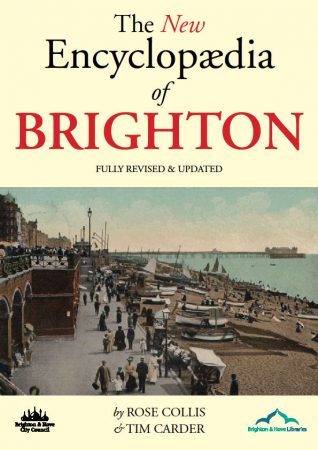 My Brighton and Hove has, for a very long time, been putting the case for a revised version of what we see as the 'must have' publication for all serious Brighton history buffs. This is of course, 'The Encyclopaedia of Brighton' written by Tim Carder. To say my own copy is 'dog-eared' is the understatement of the year. The EofB is my constant companion and first point of reference in any query regarding the city. So it was with great pleasure that I received the news earlier this year, that a revised version was planned.
The definitive Brighton history
The encyclopaedia was originally intended chiefly as a reference volume for libraries and schools, but sparked so much interest it went on to sell around 7,000 copies. The Encyclopaedia of Brighton became the definitive popular Brighton history book, and there is no other title on the market which comprehensively covers all aspects of Brighton's history, and has such broad general appeal.
Huge public demand
Due to huge demand, Brighton & Hove Libraries have commissioned a new revised version for the 21st. century, written by local author Rose Collis. Tim Carder's original research is taken as its base, but revisions and new material will reflect the massive changes in the city in the last ten years.
Pre-order your copy
From Monday 14 December, pre-order vouchers for The New Encyclopaedia of Brighton will be available at all Brighton & Hove Libraries priced at £20. The purchase of a voucher will ensure that a copy of The New Encyclopaedia of Brighton, signed by both authors, will be reserved for you, to be collected at the library where the purchase was made.
On general sale in May 2010
The book will be available from libraries and all good local bookshops from 31 May, but voucher holders will receive their copies in advance of this date.   The original Encyclopaedia of Brighton, written by Tim Carder, was published by East Sussex County Council Libraries in 1990 but has been out of print for some time.
An update on availability
We have had this message from Sally Blann who is Local Studies Manager at The Jubilee Library. She told us that,
'A company in Uckfield are handling the warehousing and distribution of the book and it's going to be sold in bookshops large and small, libraries, Museum outlets, via mail order and through internet bookshops so My Brighton and Hove folks can rest assured that they will have no problems obtaining their copy wherever they are living.'
If you have any queries about the new publication you can contact Sally Blann at:
Sally.Blann@brighton-hove.gov.uk
For further information, please telephone your local library or contact libraries@brighton-hove.gov.uk