Lost Hospitals of Brighton and Hove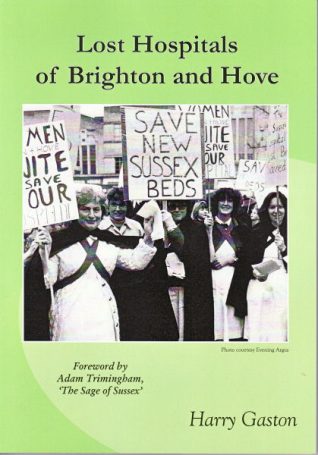 Eleven hospitals in 1948
When Britain celebrated the birth of the National Health Service in 1948, there were eleven hospitals in Brighton and Hove. Today only four of them remain. What happened to the seven missing hospitals? Should we mourn their loss? Lost Hospitals of Brighton and Hove examines the part those hospitals played in providing health care to local people during the fifty years before the last of them closed.
Memories of patients and staff
Thanks to Harry Gaston's impeccable research, and the memories of many people who worked in or were treated in them, it is possible to build up a picture of the seven hospitals – Bevendean, Foredown, Hove General, Lady Chichester, New Sussex Hospital for Women, Sussex Maternity and the Sussex Throat and Ear.
Many have been demolished
Little now remains of these hospitals. Many of the buildings have been demolished. Some now house flats and apartments; a couple serve other health purposes although none, like some of those in London, are now the sites of supermarkets or even prisons.
Where you can buy the book
You can buy this fascinating book price £12 available directly from Friends of Brighton & Hove Hospitals using a credit/debit card here. Look in the right hand navigation for 'Harry Gaston's books'. Locally the book can be bought at City Books and Kemp Town Bookshop.