Childhood memories of the 1960s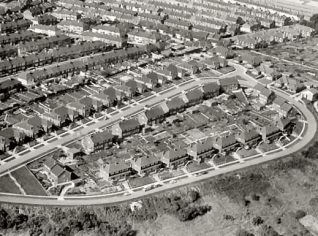 From the private collection of C.F.Davies
During the 1960s I lived with my parents at 26 Bevendean Crescent. Higher Bevendean was a friendly, quite close-knit community in those days. Certainly we knew the neighbours on both sides of our house and not just next door, but for 10 possibly 12 houses either side! I can still rememember the names of most of the inhabitants of nos. 2 to 42 Bevendean Crescent and a number othe people living on the other side of the road.
Endless childhood adventures
My brother Barry and I would play on the green in Bevendean Crescent and also on the open countryside behind. The back of our house gave onto the backs of the houses of Widdicombe Way. Only a narrow alleyway separated the back gardens. Our friends Michael and Johnny would join us in endless adventures on the rough ground at the end of the alleyway, which was also where the community bonfire was held each year on Guy Fawkes night. This land had formerly been used as allotments, probably during the war, and there was a plentiful supply of corrugated iron remaining from compost clamps with which we built wonderful camps. The summer months were filled with building hideouts for our 'gang' and if you flipped the sheets quickly as you picked them up from the ground you would, perchance, see lizards and slow-worms.
Policemen in Morris Minors
These days you will only see the occasional patrolling police car but, believe it or not, in that era there remained a police box at the end of Bevendean Crescent, almost adjacent to Cheeseman's Greengrocer's shop – yes, there was a greengrocer, butcher, baker, shoe shop with cobbler, chemists, grocers, hairdressers and a newsagent/sweetshop! Policemen would arrive on motor bikes or in panda cars, a two-tone light blue and white car, usually a Ford Zephyr or a Morris Minor.
A reward for honesty
One gloriously sunny summer's day in 1962 my brother and I found a £1 note near to the police box. This may not sound like a noteworthy event – please excuse the pun – but such a sum was worth a great deal then. You should be aware that the average house then cost £2,900. It is roughly equivalent to £30 in 2007 money. We took the note home and showed it to my mother who insisted that we should return to where we found it forthwith and then ask each passing adult if they had lost it! This we did and, believe it or not, no one claimed it and it ended up being taken to the police box. Unsurprisingly, or may it does come as a revelation, six months later the police summoned my brother and I to the police box and told us that, as no one had reported the lost cash, we could have it. It was ours legally and just in time for Christmas. How we hopped and skipped on the way home that December day. As L. P. Hartley wrote: The past is a foreign country, things are done differently there.