Honorary Doctorate for Nicholas Owen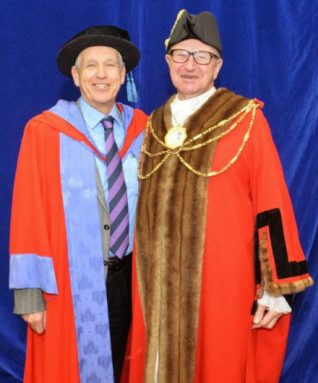 ©Tony Mould: images copyright protected
Doctor of Letters
At the Brighton University Winter Awards ceremony at Brighton Dome today, Nicholas Owen was awarded the honorary degree of Doctor of Letters, in acknowledgement of his major contribution to journalism and services to charity.
Long and distinguished career
Nicholas began his career in journalism in 1964 and has worked in Fleet Street on the Evening Standard, Daily Telegraph and the Financial Times. He began his television career with the BBC in the north-east. At the moment he is a presenter with BBC TV News, working on BBC1 bulletins and the BBC's 24-hour news channel.
Charitable work
Among the charities Nicholas supports is the Prince's Trust for which he is an ambassador. He is patron of the Argus Appeal, a charity working in Sussex to help individuals, families and other charities needing financial help. Nicholas is also a passionate supporter of Volks Railway in Brighton and is involved in its fundraising and educational programmes.