Brighton born and bred: Peggy Ross nee Olliver - Part II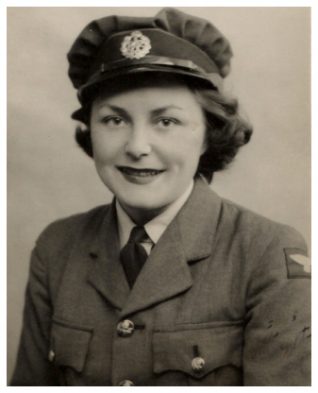 From the private collection of Peggy Ross
My first job
I left school in 1934 when I was 14 years old, which was normal in those days. I have to admit that I didn't enjoy school much, so I looked forward to getting a job. I was very lucky with my first job as I loved it, and the people there were so very nice. I began work at 'Estelles' which was a shop at the top of Preston Street.
A lovely place to work
The shop wasn't very large but it sold a wide variety of clothing. We stocked dresses, jumpers, hosiery, collars, gloves, scarves, hankies and even haberdashery. I worked on the counter which sold hankies, collars and other small items. It was a lovely place to work and I enjoyed meeting all the people I served.
Duty at the Royal Sussex County
In 1939 when war was declared I was still working at 'Estelles', but because I had three years' experience in the Red Cross, I was asked to report to the Royal Sussex County Hospital outpatients department. We were there to wash down patients who were covered in gas. Luckily enough I was never needed to do that, but I was occasionally asked to work in the Casualty Department.
Too much stress
Eventually I was transferred onto the wards and I found this very difficult. Often we were working with really sick and dying people. I found that I worried very much about these poor people, to the extent that it was making me ill. My doctor recommended that I give up my hospital work. I worried then that I was being unpatriotic, but the stress was just too much, so there was no choice.
Signing up for the WAAF
After the hospital I got a job in 'Mary Yorkes' dress shop in Western Road. I did the window displays and helped serve on the counter as well. I did enjoy the job, but I was conscious of 'doing my bit' for the war. So when my friend said she was going to sign up, I decided to go with her. We went to the recruiting office to volunteer as WRNS, but they weren't accepting any more, so decided on the WAAF. I passed my medical with flying colours, but my friend failed because of her eyesight.
Off to serve my country
When I told my parents I had signed up they were shocked, and of course worried. And when the day came for me to report to the recruiting office in Queen's Road, there were lots of tears. It was hard for me too, but I had signed up. and so off I went with my little attaché case containing my nightie, slippers, dressing gown and toiletries. But despite my anxiety at the time, I can honestly say I never regretted a moment of my time in the services.