Light & Son: Master Tailors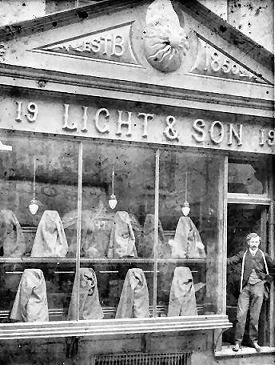 From the private collection of Geraldine Lewis
Business established c1850
My GG Grandfather James Light set up his tailoring business in about 1850. He was definitely recorded as having his business at 19 Cranbourne Street, but at what date he moved the business there is not known.  His two sons Frederick Parsons Light and Horace Frank Light (my GGrandfather) were working for him along with two apprentices and he is recorded as a Master Tailor employing two men and two boys. James Light did all his work by hand and never used a sewing machine – after retiring he continued to work for his son Fred, who took over the business, as a 'waistcoat hand' until a week before he died in 1911.
Succeeded by his sons
Frederick and Horace continued to run the business after their father's death. My father's cousin believes that the gentlemen outside the shop in the photo is Horace Light, as he certainly managed the business for his brother at some stage and we estimate that it was taken about 1911, following James's death. I am not sure when the business ceased to trade but Horace died in 1939 and none of his children carried on the business.