Geoff Collins: School Liaison Officer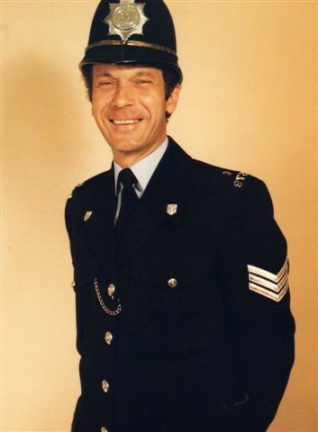 From the private collection of Geoff Collins
Having served in the Sussex Police between 1971 and 1998, I'm often asked what part of my job I enjoyed most. In reply, I refer to the time I was a Brighton Police School Liaison Officer, (SLO) in the 70's and 80's. The experience was extremely rewarding and has left me with many memories.
School Liason Officer
Since the late 1960's Brighton & Hove has always had SLO's allocated to it's schools. One officer covering Hove, and two sharing Brighton, using the London Road as a dividing line. The forerunners to this scheme were given no special training, but were selected for their communication skills, and natural ability to gel with children and young people.
A mammoth task
Armed with a variety of self taught subjects, from Stranger Danger to History of Police, our remit was to visit on a regular basis all the schools within our designated area, with the intention of seeing as many children as possible. But when you consider that there was an estimated 9,000 children within my area alone, and a new wave of infants coming on stream each year, our task was a mammoth one. I often wonder how many of today's adults still remember 'PC.Collins' or any of my old SLO colleagues, namely PC. Armstrong, PC. Petfield, or PC. Beer.
Local celebrities
Because of the unique nature of our role, in the eyes of many children we were celebrities. Often being cheered or even mobbed as we crossed a crowded playground. Invitations to a variety of events were always in an abundance. I remember on one occasion whilst attending a Christmas dinner at Uplands School in Hollingdean, where Gary Stevens the rising star of Brighton & Hove Albion was the special guest, the queue of children for my autograph was longer than Gary's.
Wide ranging communication
Unlike today where Police officers are restricted to a certain degree by specific guidelines when attending schools, the original SLO's had far more freedom to use and inject their own personalities, ideas and imagination into a whole range of communication aspects. Modern day thinking would frown upon some of the things I did or got involved in, all under the banner of 'Public Relations'.
A happy memory
How many from Falmer High can remember the following incident sometime in the early 80's when on one snowy winters day, as I entered the school grounds, I felt a thud to the back of my head and saw my helmet flying through the air having been hit by a slushy snow ball. The unknown culprit was amongst a group of lads laughing behind me. Saying nothing, I made an equally slushy snowball and returned the volley, needless to say that within seconds I was the target of a massive onslaught of both soft and some suspect hard snow balls coming from all directions via dozens of eager young hands. The fun only stopped when we ran out of snow. I entered the school building soaking wet, but happy in the knowledge that respect for the Police had on that day been raised a few more notches.
To all of you who contributed towards the best days of my working life…many thanks.